Uniform
The St James uniform list
Black school blazer with St James' school logo St James school tie
Plain black full-length trousers which do not trail on the floor (not leggings, skinny jeans or any type of skinny or tight trouser, stretch, baggy, denim, flared or bell-bottoms, jeans, chinos, canvas or corduroy)
Students may wear a plain black skirt instead of trousers if preferred (no patterns or additional colours). The skirt must be pleated or straight in style and must reach the knee (not above the knee). Skirts must not be tight-fitting, stretchy or 'skater' skirts. All skirts must be worn with black tights (except when specified during summer months).
Shorts or culottes may also be worn however, they must be tailored in style and reach the knee.
Short-sleeved shirts may be worn instead of long-sleeved, but the shirt must be tucked in.
If your child has a medical reason for wearing trainers instead of shoes, they must be completely black and

any branding must be entirely black. M

edical evidence must be provided if your child needs to wear trainers. If your child has a short-term reason for needing to wear non-school shoes, please contact your child's Head of Year, via email.
Summer Uniform
The change to summer uniform expectations will be clearly communicated to students and parents at the necessary time.
St James summer uniform means that students are not expected to wear their blazers in school and they do not have to bring their blazers into School if they do not wish to.
Students who are wearing skirts will not be expected to wear tights as they are at other times of the year.
If students still wish to wear blazers or tights during this time, they are free to do so. Students will still be expected to wear the rest of their uniform as normal.
Black/White socks (no logos) should be worn with shorts or skirts.
To note tailored shorts are within the uniform policy all year round.
Optional
-Plain, black V-neck jumpers can be worn along with the jacket.
The purpose of a St James school uniform
Through our St James uniform and dress code we aim to:
Encourage pride in the school
Support teaching and learning
Enable pupils to be comfortable, safe and secure
Encourage a sense of equality and belonging to the school community
Protect pupils from social pressures to dress in a particular way
Support parents to provide an efficient and value for money dress code for their children
Ensure that pupils from different social, religious and ethnic groups feel welcome.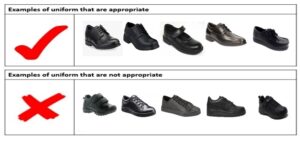 If belts are worn, they should be narrow and plain black with a small normal buckle. Logos on belts are unacceptable.
Plain white shirt with collar and buttons up to the neck (not a polo shirt), tucked into trousers or skirt. Any t-shirts worn under the shirt must be white and not showing
There is no specific colour required for socks that are worn under trousers
Only black socks (no logo) can be worn over tights.
Only plain black/white socks (no logo) can we worn with shorts
Socks should not come higher than the bottom of the calf.
Headscarf in muted colours with no jewels.
Black leather look/polishable shoes with no coloured marks or logos. No flip-flops, Ugg-style boots, skater style, pumps, trainers or high heels. Knee/ankle boots will not be permitted.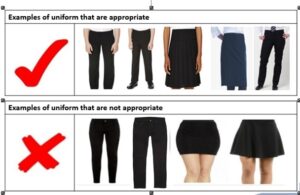 The St James PE kit list
PE kit – essential
Navy/sky blue St James shorts or St James leggings or St James jogging bottoms or plain navy jogging bottoms without logos.
Astro trainers
Long socks (navy/sky blue football socks)
Navy/sky blue St James hoodie
Navy/sky blue St James PE polo shirt
Gum shield
Shin pads
PE kit – recommended
Football boots
Reversible rugby top
Expectations of uniform at St James
School uniform is important as it reflects both pride in the school and students' attitude towards their learning. Students must maintain a high standard of personal appearance at all times.
Students must be in full correct uniform in order to attend lessons. Parents will be contacted for any student arriving in school out of uniform or in incomplete uniform. Students will be asked to borrow uniform in school in accordance with our behaviour policy.
Students must be in full correct uniform in order to attend lessons. Parents will be contacted for any student arriving in school out of uniform or in incomplete uniform. Students will be asked to borrow uniform in school in accordance with our behaviour policy.
Please note:
No coats or jackets are to be worn over or under school uniform in school time
Sweatshirts, t-shirts, hoodies and cardigans cannot be regarded as being "jackets" or "coats" and should not be worn in school at all. The same is true of pullovers in non-uniform colours
Blazers must be worn (in) all lessons, in the school building. Students may remove blazers when given permission by teachers during lessons and/or when SLT determine that the weather permits them to be removed in the school building during the school day.
No outer garment which bears a slogan, logo, initials or forms words that are offensive is allowed on the school site.
Hats, scarves and gloves are not permitted to be worn inside the school building at any time
Shirts must be worn fully tucked in with top button fastened.
Ties must be worn at all times.
Students may wear one pair of studs in their ears, but they must be no bigger than 3-4mm. Only one stud is allowed in each ear and they must be worn in the earlobes. Please arrange for piercings to be done during school holidays as jewellery must be removed during PE lessons for safety reasons.
Body piercings in other parts of the body (e.g. eyebrow, face, nose) are banned.
No bracelets, bands or rings are allowed
Any make-up should be discreet in its application and not include the wearing of lipstick or false nails. Any student deemed to be wearing too much makeup will be asked to remove it immediately.
Hair should be tidy, of reasonable appearance and of such length that there is no risk of getting it caught.
Students should not have patterns or logos shaved into their hair and hair should not be of a colour which could be described as unnatural. Hairbands or clips should be small and plain.
If a religious symbol is required, it should be small in size, of simple design and worn so it cannot be seen and must be authorised by the Head of Year.
All students must carry a school bag/rucksack which is large enough to hold A4 folders and textbooks
Non-uniform days: clothing should be non-revealing and not bear offensive logos or comments. The rules concerning hair colour, jewellery, make-up and facial piercings will still apply. Students should be 'clean, comfortable and covered. '
Examples of false eyelashes, nails and the types of facial jewellery which are not permitted are shown below: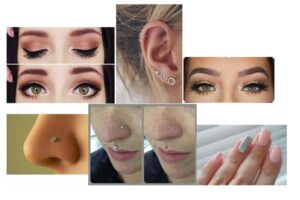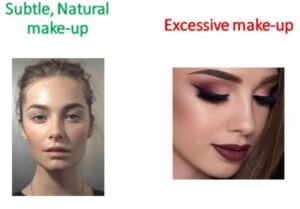 Where to purchase it
New Uniform
Price and Buckland are the supplier of new uniform. The St James uniform suppliers are reviewed in line with government legislation to ensure that we are using the most cost effective suppliers of school uniform. https://www.pbuniform-online.co.uk/stjamesschool
Second hand Uniform
Hospice Care, Summer Lane, Exeter is our second hand supplier of uniform. Uniform can be purchased from Hospice Care, or they offer customers to swap like-for-like items e.g small undamaged blazer for larger undamaged blazer.
Expectations for our school community
Pupils
Pupils are expected to wear the correct uniform at all times (other than specified non-school uniform days) while:
On the school premises
Travelling to and from school
At out-of-school events or on trips that are organised by the school, or where they are representing the school (if required)
Pupils are also expected to contact Mark Barlow mzb@stjamesexeter.co.uk if they want to request an amendment to the uniform policy in relation to their protected characteristics.
Parents and carers
Parents and carers are expected to make sure their child has the correct uniform and PE kit, and that every item is:
Clean
Clearly labelled with the child's name
In good condition
Parents are also expected to contact Mark Barlow mzb@stjamesexeter.co.uk if they want to request an amendment to the uniform policy in relation to:
Their child's protected characteristics
The cost of the uniform
Parents are expected to lodge any complaints or objections relating to the school uniform in a timely and reasonable manner.
Disputes about the cost of the school uniform will be:
Resolved locally
Dealt with in accordance with our school's complaints policy
The school will work closely with parents to arrive at a mutually acceptable outcome.
Staff
Staff will closely monitor pupils to make sure they are in correct uniform. They will give any pupils and families breaching the uniform policy the opportunity to comply, but will follow up with the headteacher if the situation doesn't improve.
Ongoing breaches of our uniform policy will be dealt with by St James Behaviour for Learning Policy 2022 (seen on the school website).
In cases where it is suspected that financial hardship has resulted in a pupil not complying with this uniform policy, staff will take a mindful and considerate approach to resolving the situation.
Governors
The governing board will review this policy and make sure that it:
Is appropriate for our school's context
Is implemented fairly across the school
Takes into account the views of parents and pupils
Offers a uniform that is appropriate, practical and safe for all pupils
The board will also make sure that the school's uniform supplier arrangements give the highest priority to cost and value for money, for example by avoiding single supplier contracts and by re-tendering contracts at least every 5 years.